Published: June 7, 2014
Red Hot Mamas® is the leading provider of menopause education and support programs in the United States and Canada, and has been educating and engaging women, and healthcare providers, since 1991.  The organization has focused solely on providing information and support to women to help optimize their health at menopause and beyond.
Our Story
The concept of Red Hot Mamas® was created by Karen Giblin after she had a total abdominal hysterectomy and bilateral oophorectomy in 1991.  She was prepared for the surgical procedure, but not for the disrupting menopausal symptoms that happened after the surgery. At that time, she held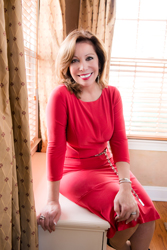 public office as Selectman, Town of Ridgefield, CT.  Many women called her asking questions about menopause and sharing very intimate details about their experiences. They felt confused because of the abundance of contradictory information and had nowhere to turn to find answers. They felt frightened, embarrassed by the symptoms associated with menopause and had feelings of anxiety about their experiences. As a result, Karen developed Red Hot Mamas® to provide women medically sound information, along with plenty of support.  
Karen created Red Hot Mamas® Menopause Education Programs; a website www.redhotmamas.org; and a woman-owned company, Red Hot Mamas North America Inc., which specializes in health, wellness, and education.
Her company has partnered on educational efforts with non-for-profit organizations, and major corporations, in a variety of educational and marketing roles to increase visibility of their healthcare campaigns or products. They have also developed, conducted, and presented numerous research studies on women's health.
Red Hot Mamas® Timeline

What We Do
Red Hot Mamas® menopause education programs which have been licensed in over 200 hospitals and physician group practices
HON accredited and award-winning website www.redhotmamas.org
Highly renowned Health Advisory Board (Ask the Experts) who answer women's most pressing questions
Monthly E newsletter "The Menopause Minute®"
Community forum hosted on http://www.inspire.com/groups/red-hot-mamas-menopause/
Red Hot Mamas® provides balanced and trustworthy information through a variety of channels which include:

Red Hot Mamas® recognizes that menopause can be a difficult and confusing time – but it doesn't have to be if you are properly prepared. Strategies are needed to assist women to become better informed about the changes in their bodies, and maintain their health at menopause and beyond.  Red Hot Mamas® programs have achieved national recognition for their commitment to defining the pathway to good health – through education, support, research and advocacy efforts.
RHM Health Advisory Board and Experts
Meet our health advisors/contributing editors. These well-renowned health experts provide answers to women's most pressing questions. They also provide culling advice within the articles they write in "The Menopause Minute®"

You may submit your questions to our expert panel at: askexperts@redhotmamas.org
HON certification

www.redhotmamas.org follows the Health On the Net Foundation principles, also known as the HON code. This means that we strive to keep a code of ethical conduct or "good behavior" for presenting medical information online.
The information on this site is designed to support, not replace, the relationship that exists between a patient and his/her physician.
Learn more about our compliance to the HON code.
Date of first publication 12/16/14
Revised 1/6/16