Published: September 27, 2017
Red Hot Mamas North America Inc. recognizes that women are seeking up-to-date and medically sound healthcare information. Throughout the years, we have had the privilege of working with some of our nation's leading women's healthcare professionals. Many of our endeavors have been in the area of patient education, behavioral research, and advocacy efforts.
We invite you to meet our medical advisors/contributing editors for our website. These well-known and highly qualified experts will provide you with the best quality healthcare information you seek and deserve. You can ask them a question by e-mailing askexperts@redhotmamas.org.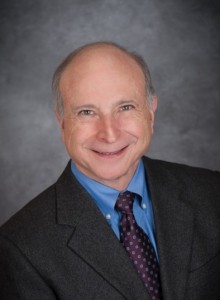 Machelle Seibel, MD is a national authority in health education. He is a Professor of Obstetrics & Gynecology at the University of Massachusetts Medical School and Director of the Complicated Menopause Program. Dr. Seibel has won national awards for research, writing, and patient education and is a sought-after speaker. Seibel is also an award-winning composer and founder of HealthRock®, teaching health literacy through music and entertainment.
He served four years as Editor-in-Chief of Sexuality, Reproduction, and Menopause ― a journal of the American Society for Reproductive Medicine.
Dr. Seibel was a member of the Harvard Medical School faculty for almost 20 years where he served as the Director of Reproductive Medicine and Infertility at Beth Israel Hospital and Harvard Medical School and Medical Director of the Faulkner Centre for Reproductive Medicine. He also served four years as Clinical Professor at Boston University School of Medicine. For more information about Dr. Seibel (also known as DocRock), visit his personal website and Health Rock. 

Mary Jane Minkin, MD is clinical professor of obstetrics and gynecology at Yale University School of Medicine and has a private practice in New Haven, Conn. She is widely known in the field of gynecology and is interviewed often in print and broadcast media; she has even appeared on a billboard in Times Square, along with other women of note representing the "new face of menopause."
She is a leader in women's health education both inside and outside the medical community. Minkin is co-author, with Carol Wright, of A Woman's Guide to Menopause and Perimenopause and The Yale Guide to Women's Reproductive Health. She is lead author or co-author of articles in numerous peer-reviewed journals, and also writes a monthly column for Prevention magazine.

Dr. Minkin is a recipient of the Irving Friedman Award, given by Yale School of Medicine's department of obstetrics and gynecology for excellence in clinical abilities and patient care and has twice been awarded the Resident's Teaching Award for best community attending physician.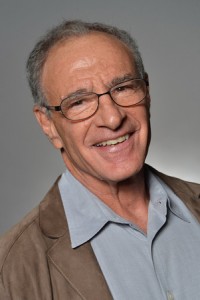 Michael Goodman, MD has been practicing women's healthcare since finishing his Ob/Gyn residency at Stanford University in 1972. Dr. G is the author of 2 consumer-oriented books on menopause, The Midlife Bible – A Woman's Survival Guide, and "MEN-opause: The Book for Men.
His several contributions to the peer-reviewed literature are in the areas of Family-Centered Maternity Care, Minimally Invasive Surgery, Female Genital Plastic Surgery, and Menopausal Medicine. He is an Emeritus reviewer for the Journal of Minimally Invasive Surgery, and a current reviewer for the Journal of Sexual Medicine, Menopause Management, and the World Journal of Urology.
Dr. Goodman sits on the Medical Advisory Board of Upsher-Smith Pharmaceuticals, and is a speaker for Upsher, Boehringer-Ingelheim, TherRx and Novogyne pharmaceuticals. Visit Dr. G's website www.drmichaelgoodman.com.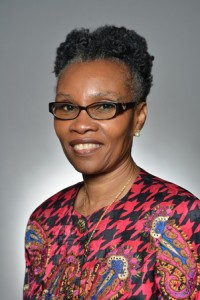 Verna Brooks McKenzie MB., BS., FACOG, NCMP is an Obstetrician and Gynecologist / Certified Menopause Practitioner with over seventeen years of experience in training, lecturing and public speaking on women's reproductive health issues internationally including Ghana West Africa. She is a pioneer in women's health and founded the first Menopause Center and Osteoporosis Society in Jamaica. She was Adviser to the Jamaican Government at meetings of the Commission for the Status of Women, United Nations Headquarters, New York, the 1995 United Nations Fourth World Conference on Women, Beijing China and as an expert she participated in a consultation on reproductive health and family planning, United Nations Population Fund Headquarters, New York and the menopause movie "Hot Flash Havoc".
She has written many articles on women's health and is a guest on numerous radio and television programs.
In recognition of her outstanding, excellent and distinguished service in the field of women's health she received many awards including the American College of Obstetricians and Gynecologists West Indies Section Award and the Ardenne Alumni Hall of Fame Award.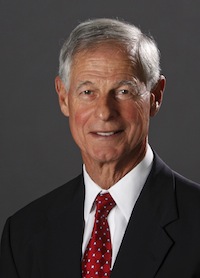 Dr. Murray Freedman received his medical training at the Medical College of Georgia in Augusta, Georgia. He is board certified in Obstetrics and Gynecology and a Fellow of the American College of Obstetrics and Gynecology as well as a Fellow of the American College of Surgeons.
He is currently Clinical Professor of Obstetrics and Gynecology at the Medical College of Georgia, and he maintains a very active private practice in Augusta, Georgia. He is a past president of the Georgia State OB/GYN Society and a past president of the South Atlantic Association of Obstetrics and Gynecology. He is currently a member of the Advisory Board of the American Journal of Obstetrics and Gynecology for the subspecialty Psychosexual Medicine.
Dr. Freedman has published 3 books: Peanut Butter and Jelly, Great Sex as Easy as Making a PBJ Sandwich; Steroid Biochemistry and Its Clinical Application; Society to L and D STAT!
He has published over 25 articles in national and international medical

journals and authored 3 chapters in medical textbooks. For over 15 years Dr. Freedman has been investigating and writing about vulvovaginal atrophy in menopausal women, and he received the NAMS NovoNordisk Award for Vaginal Health Research in 2008. He lectures frequently to medical and non-medical audiences about his clinical experience with hormones, sexuality and relationship issues in postmenopausal women.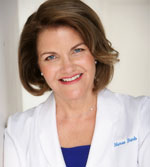 Barbara Dehn RN, MS, NP, FAANP is a practicing Nurse Practitioner and a television health expert, who's known as Nurse Barb. She is passionate about health education, whether it's 1 on 1 with a patient, in a lecture hall at Stanford or with millions of people watching on television. Her warm and engaging personality puts everyone at ease as they learn more about health.
In addition to national appearances on CNN, NBC and ABC, Barb took the extraordinary leap of bringing her blog, Nurse Barb's Daily Dose to ABC nationally. Nurse Barb's Daily Dose health segments cover the range of health topics from women's health and nutrition to parenting and pain relief.
Nurse Barb is the award winning author of the Personal Guides to Health used by over 4.5 million women in the US, with titles ranging from fertility and pregnancy to menopause and breastfeeding. She has a health blog at www.NurseBarb.com.
She earned a masters degree from UCSF and a BS from Boston College. She is Certified by the North American Menopause Society and is a Fellow in the American Academy of Nurse Practitioners. Barb lives in the San Francisco Bay area with her husband and son. To contact Nurse Barb, please visit www.NurseBarb.com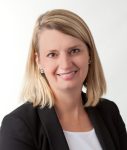 Rachel Cady, M.D Cuyuna Regional Medical Center Obstetrician/Gynecologist Rachel Cady, M.D., is a Certified Menopause Practitioner who provides optimal menopause-related health care to women.  She is one of three Minnesota specialists located north of Minneapolis who passed The North American Menopause Society competency exam. Dr. Cady and CRMC's team of certified menopause specialists offer personalized care for women's midlife transitions. They help women age 40 and older deal with issues and symptoms caused by perimenopause and menopause. Among the concerns and symptoms, they treat are weight management, sexual problems, vaginal dryness, abnormal bleeding, pelvic floor rehab, incontinence, heart health, mood swings, hormone replacement, bone health, sleep issues and hot flashes. A member of CRMC's medical staff since 2004, Dr. Cady is experienced at minimally invasive surgery for pelvic floor disorders incontinence, pelvic pain, endometriosis and uterine fibroids which results in patient outcomes of less pain and recovery. Her areas of expertise include obstetrics, gynecology, vulvar disorders, pelvic pain and pelvic floor rehabilitation/incontinence.  An honors graduate of the University of Georgia, she earned her Medical Degree at the University of Minnesota and completed a residency at Spectrum Health in Grand Rapids, Mich. She is a fellow of the American College of Obstetrics and Gynecology and an active member in the American Association of Gynecologic Laparoscopists and the American Urogynecologic Society.  For more information about CRMC's Obstetrics and Gynecology programs, visit www.cuyunamed.org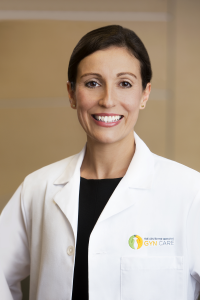 Natalya Danilyants MD, FACOG  received her fellowship training in Advanced Retroperitoneal Laparoscopic Surgery through the exclusive Johnson and Johnson/Ethicon EndoSurgery (EES) fellowship program. The EES program, which offered less than 10 positions nationally, accepted Dr. Danilyants after completing her residency at the George Washington University in Washington DC, where she served as Chief Resident. She practiced an additional three years at the Women's Surgery Center, where she was the Director of Advanced Retroperitoneal Laparoscopic Surgery.
Dr. Danilyants is the former Division Chief of Minimally Invasive Gyn Surgery at Inova Fair Oaks Hospital as well as former Assistant Clinical Professor in the Department of Obstetrics and Gynecology at George Washington University Hospital.
She received numerous awards for her exceptional surgical skill and care, including the Outstanding Laparoendoscopic Award in 2007, AAGL (American Association of Gynecologic Laparoscopists) Award for Special Excellence in Endoscopic Procedures in 2008, and Center of Excellence in Minimally Invasive Gynecology Designated Surgeon in 2012. Dr. Danilyants is a co-founder of The Center for Innovative GYN Care.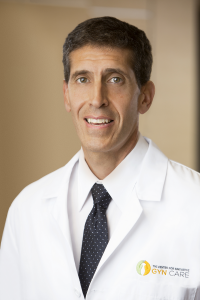 Dr. Paul MacKoul completed his fellowship in gynecologic oncology at the University of North Carolina, and his residency in OB/GYN at the University of Maryland. He graduated from Medical School at Tufts University after completing a Masters degree at Vincent T. Lombardi Cancer Center at Georgetown University.
He is a board certified specialist in both Gynecology and Gynecologic Oncology. As a leader in the field of laparoscopy, he has presented at major national meetings and been published in world-renowned medical journals. He is frequently sought as a medical expert on techniques for minimally invasive removal of non-cancerous, pre-cancerous, and cancerous tumors.
Dr. MacKoul is Director of Gynecologic Laparoscopy at Holy Cross Hospital. He is also the former Director of GYN Oncology at George Washington University Hospital and Washington Hospital Center as well as former faculty at George Washington University Hospital.
He was named a Center of Excellence in Minimally Invasive Gynecology Designated Surgeon in 2012. He is a co-founder of The Center for Innovative GYN Care.


Dr. Francis Barbieri, Jr. has provided comprehensive and cosmetic dentistry to central New Jersey residents for over 25 years. He works closely with each patient to design an individualized care plan that achieves their dental goals, and fosters comfort and confidence along the way. He is at the forefront of restorative cosmetic dentistry, using the most advanced and minimally invasive techniques. Dr. Barbieri believes that patient education is the cornerstone of high-quality dental care, working with patients on an individual basis and developing educational materials to provide information about treatment options, the latest technologies, and most importantly, how to prevent treatment.
For over 10 years, Dr. Barbieri has donated his time and expertise to the Smiles for Life Foundation, a charitable organization that benefits children with serious oral health conditions. He is a Fellow in the Academy of General Dentistry and is an active member of the dental community in several organizations, including the American Dental Association, the Central New Jersey Dental Society, the International College of Oral Implantologists, the American Academy of Cosmetic Dentistry, and the Crown Council. In his spare time, Dr. Barbieri enjoys reading, golfing, watching professional baseball and playing his guitars. Dr. Francis Barbieri, Jr. graduated from Georgetown University School of Dentistry in Washington, D.C., earning departmental honors in Fixed Prosthodontics. Dr. Barbieri served as a Captain in the U.S. Army Dental Corps at Fort Bragg, NC and entered private practice in 1986.

Barb DePree, MD, is a board-certified obstetrician and gynecologist caring for perimenopausal and menopausal women with a focus on sexual health. She has been in practice for over 25 years. In addition to a medical degree from Wayne State University School of Medicine, she has a Masters of Medical Management from Carnegie Mellon University. She is a North American Menopause Society Certified Practitioner, and was awarded the NAMS 2013 Practitioner of the Year for her exceptional contributions to menopause care.
To further advance the conversation about women's sexual health at midlife, Dr. DePree founded a MiddlesexMD.com, which provides practical advice and products. She has been a contributing expert for media regionally and nationally and is the author of Yes You Can: Dr. Barb's Recipe for Lifelong Intimacy, as well as articles in peer-reviewed journals and the ACOG UPDATE audio CME program.
It's been almost a decade since Dr. Barb DePree decided to transform her practice and focus on menopause care. In that time, her resolve has only strengthened: "I talk to a lot of women who are perplexed, disappointed, and frustrated," she says. "They're not ready to leave their sexuality behind–and they don't have to."
To expand her reach beyond her own Midwest practice, Dr. DePree launched MiddlesexMD.com, a website that offers information and products that women can use to start where they are and reclaim their sexual health. Over the past five years, Dr. DePree has been blogging about women's sexual health and menopause, in part responding to questions submitted by readers.
Recently, Dr. DePree collected both the most important and most popular blog posts from the last five years and published them as a book, a comprehensive guide called Yes You Can: Dr. Barb's Recipe for Lifelong Intimacy. The collection explains the changes that come with menopause–for which few of us are adequately prepared–and what women can do to compensate. Questions from real women are included–as well as Dr. DePree's responses.
"Too few of us talk about midlife sex and the realities of menopause," Dr. DePree says. "My hope for both the website and the book is to extend the conversation so women know they're not alone and they're not without options. We don't need to close the door on intimacy."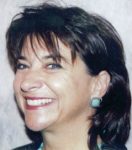 Pam Rand RD, LDN, CDOE, RYT is recognized throughout Rhode Island as a leading authority and practitioner in the field of nutrition education, Pam has dedicated over 30 consecutive years to counseling individuals of all ages from all walks of life for all manner of dietary concerns. She has over ten years of clinical experience, with a focus on cancer and heart disease as well as an extensive tenure with numerous private institutions for drug and alcohol rehabilitation and mentally challenged.  Pam enthusiastically conducts wellness programs offering yoga and cooking demonstrations throughout Rhode Island.  Pam's expertise is as a Public Speaker and Educator, Individual Counseling Group and Family, Nutritional Therapy Certified Diabetes Outpatient Educator, and Registered Yoga Teacher.
Pam is the author of YoGuides, book and CD. YoGuides is a personal wellness tool for use at work, home and school using breathing, exercise and guided imagery techniques which require absolutely no previous yoga experience.
Visit her website at Pamrand.org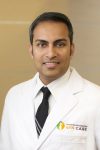 Dr. Rupen Baxi received his fellowship training in minimally invasive GYN surgery at Mohawk Valley Health System, an American Association of Gynecologic Laparoscopists (AAGL) fellowship program. He completed an internship in General surgery at the Jewish Hospital of Cincinnati followed by residency in Obstetrics & Gynecology at Oakland University William Beaumont School of Medicine and Health System where he was awarded the Special Resident in Minimally Invasive Surgery Award, sponsored by the AAGL. He also the recipient of the prestigious Arnold P. Gold Foundation "Teaching and Humanism in Medicine" Award.
 Dr. Baxi has also served as a member of the surgical case review committee while at the Mohawk Valley Health System.
In addition to proficiency in minimally invasive GYN surgical techniques, Dr. Baxi has been published multiple times in the Journal of Minimally Invasive Gynecology, and has presented scientific findings from multiple research studies at major national meetings. As an invited speaker, Dr. Baxi has also given several talks on such topics as Bloodless medicine and surgical techniques and Pelvic Organ Prolapse.
Dr. Rupen Baxi is a surgical specialist at The Center for Innovative GYN Care.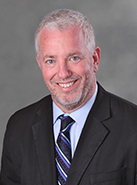 Eric I. Mitchnick, MD, FACS is a Board Certified Urologist at the Advanced Urology Centers of New York in Northport and Port Jefferson Station, NY. He serves as Chair of the Credentialing Committee and Surgical Performance Review Committee at Huntington Hospital. In addition, he is a fellow of the American College of Surgeons, a member of the New York chapter of the American Urological Association, and the President of the Board of the Integrated Medical Foundation, an organization that promotes awareness and early detection of prostate cancer.
Dr. Mitchnick received his Bachelor of Arts degree, majoring in Natural Sciences, from Johns Hopkins University, and his MD degree from SUNY Health Science Center. He completed his four years of residency training at Beth Israel Medical Center in New York, N.Y, from 1989 – 1993. Read more about Dr. Mitchnick's expertise and practice at http://www.aucofny.com/eric-i-mitchnick-md-facs/.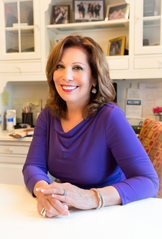 Karen L. Giblin is a recognized expert and women's healthcare advocate. She is also the President of Red Hot Mamas North America, Inc.
In 1991, Karen founded Red Hot Mamas after undergoing surgical menopause. The entire process of suddenly entering menopause left her with many questions. She was seeking clarification amid a lot of confusing and conflicting information.
Karen felt menopause education was the missing piece of the health care puzzle for women in their prime years, so she started development of Red Hot Mamas programs.
Today, these programs have blossomed into the nation's most recognized menopause education programs and are offered free to women across the United States. The program's design is directed to answer the needs of menopausal women providing clarity and insight on menopause to help women live long, healthy lives.
Karen Giblin states, "My legacy to women is helping to significantly improve their health outcomes as they approach menopause and beyond".

DISCLAIMER: This feature is provided for informational purpose only. Please note that the answers you receive are not intended to be a substitute for individual medical advice in diagnosing or treating a health problem. Please consult with a physician about your specific health care concerns.