Published: June 2, 2014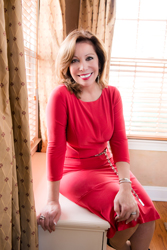 Karen Giblin is a foremost authority on menopausal health. She is Founder and President of Red Hot Mamas®, the nation's largest menopause education program providing mid-life women's health information and support which began in 1991.  Red Hot Mamas® programs have been offered in over 200 hospitals and physician practices in the US and Canada.
Directed by Giblin, the Red Hot Mamas® award-winning website, www.redhotmamas.org provides up-to-date information to help women take charge of their menopause. She is Editor-in Chief of the Red Hot Mamas® monthly E-newsletter, The Menopause Minute®.  The website and newsletter dispense the latest news on menopause health, medical research, strategies, approaches and treatments to guide women through menopause, and offers culling advice on how to make smarter lifestyle choices to live long, healthy lives at menopause and beyond.
Giblin is a frequently quoted source whose insights have appeared in national media and press including The Wall Street Journal, Chicago Tribune, Reuters News, LA Times, LA Daily News, Newsday, MSNBC, Web MD, Fortune, Family Circle, Good Housekeeping, Women's Day , Time,  Harper's Bazaar,  Living Fit,  Pink, Reader's Digest's New Choices, magazines and other publications.  She has appeared on Good Morning America, The Today Show, CNN News, CBS, NBC, Fox TV, Better TV, QVC and other media outlets.
Giblin is co-author of "Eat to Defeat Menopause" (De Capo Publishing, 2011) and "The Manual of Management Counseling for the Perimenopausal and Menopausal Patient"   (Parthenon-CRC Press, 2004).  In addition, she's been the lead investigator and presenter of numerous research projects on women's health.  Karen has also appeared before the FDA Advisory Council as an advocate for women and the need for development of non-hormonal treatment options to treat their menopausal symptoms.
She is a member of the International Menopause Society and addressed their "First Global Summit on Menopause" in Zurich, Switzerland about "Women's Perceptions of Hormone Therapy Post WHI".  She is a member of The North American Menopause Society and former producer and host of "Health Watch" – a radio program dedicated to health issues.
She also served 3 terms as Selectman, in Ridgefield, CT, and was the recipient of the 1995 Elizabeth Blackwell Award/Feminist Leadership Award, from the National Organization of Women.