By: Red Hot Mamas
Published: December 10, 2015
"Love the giver more than the gift."
– Brigham Young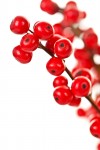 Dear Red Hot Mamas,
Oh, the hustle and bustle of the month of December. It's supposed to be filled with happiness but oftentimes it's filled with challenges to our health which affects us physically as well as emotionally. On a personal note, I must admit that I truly have difficulty just fitting all the things I need and want to do. Between gift buying, end of year responsibilities, sending out holiday cards, visits with family and friends, I find its tough for me to stay healthy and happy during the holiday season.
My words of advice to all of you who have gotten caught up in the hoopla of the holiday, whether it's Christmas, Hanukkah, or Kwanzaa is to try to do something healthy each day. It's important to identify what troubles you the most. Is it the gift buying; or grabbing fast food at the food courts in the mall; or eating all those extra calories that put on the pounds; or just not having time for yourself? Whatever it is, you can enjoy the season if you adapt healthy holiday strategies.
Seven ways to feel better right now and stay healthy during the holidays:
Snack smart and eat a balanced diet which includes enough calcium and vitamin D which will help you to maintain strong bones. Skip the rich, high calorie foods and go for the lower calorie fruits and vegetables which are essential for good health, as well as weight maintenance. And be cognizant of portion sizes.
Lace up your sneakers and make a commitment to exercise each day – even if it is only for 15 minutes a day, it will make a difference in your overall health. Weight bearing (walking, running, will help to keep your bones strong; strength training will strengthen your muscles and flexibility training (yoga) may help you avoid falls that sometimes occur during the winter months due to the inclement weather.
Manage your stress by shopping smart. It's not all about gift giving. Sometimes the best gift we can give to others is to call them and engage them in a conversation about what is happening in their lives or pay a visit with them and engage in laughter and fun.
Carve out some time for you to destress. Perhaps a little tea time. Taking a 15 minute tea break does wonders for your mind. A good herbal tea is quite relaxing and if you sip it at night, it won't even hinder your sleep.
Don't neglect yourself. Pamper and spoil yourself – get a manicure, massage, take a bubble bath, just make time for yourself.
Attend a Red Hot Mamas meeting for support or log onto Red Hot Mamas community forum on www.inspire.com. You will be surprised as to how good it feels to share your thoughts and concerns with others.
It's important for you to visit your health care provider regularly, even if you are not sick, as this can help detect problems early on.
Wishing you a happy, healthy holiday season!
Good Health to You All,
Karen Giblin