By: Red Hot Mamas
Published: July 12, 2016
"Middle age is when you've met so many people that every new person you meet reminds you of someone else."- Ogden Nash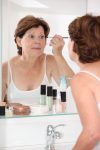 Dear Red Hot Mamas,
I remember experiencing trauma when I was turning fifty and the AARP hunted me down describing me as a "person of interest".  It almost felt like I was looking middle age right in my face and waving goodbye to my youth.
Helen Hayes once said "Age only matters if you're a cheese."  So, instead of dreading another birthday, I'll take an inventory of the good things I have in my life and am blessed with like good health and the ability to enjoy life. And, when asked my age, I simply say "I'll put it like this, I won't be seeing fifty again soon".  Of course, batting my eyelashes helps diffuse the conversation about aging.  The way you look and how your body ages is directly related to how you take care of yourself.
Polished to Perfection?  Here are a few makeup tips to look your personal best:
Experiment with different products until you find what works best for you.  Remember the more mature and older you get, the theory "less is more" goes into play.  You want to use makeup as minimalistic and natural as you can.  This will show fewer wrinkles.  Avoid matte foundation bases.  This type of foundation will exaggerate the dry areas of skin on your face.  Avoid using powders to set foundation base as they will sit in any wrinkles you might have on your face.  Creams, gels and liquids are good choices as they will create a dewy look.  Try to find a foundation that contains a sunscreen or sunblock.  Your concealer should be one shade lighter than your skin tone.  Remember to choose a color that covers dark circles, but is not so white that it looks like you are wearing a mask.  Use concealer anywhere else where you want to diminish redness.  Tone down your eyeshadow a notch and use a neutral color.  Keep your eyebrows groomed and fill in the brows with light brown eye shadow. And go easy on the blush.  Blend, blend, and blend your blush after applying it on the cheeks and into the apples of the cheeks. Take time applying mascara so you don't end up with Tammy Faye eyes.  Apply flesh colored lipstick and match your lip liner to the color of the lipstick.  And, don't be afraid to ask an expert at the local department store cosmetic counter.  Oftentimes, they will have free makeovers and consultations.
In closing, we know longer have to worry about age and wish things were different.  We can make changes to our lives that can make us look and feel fabulous as we age.
Warmly,
Karen Giblin